Tidying up is a hot topic. Lisa Dickmann is a practiced speaker, skilled at connecting with audiences large and small, and empowering listeners to help themselves realize the joy of tidying up!
Lisa is available for keynote presentations, workshops, corporate and marketing events, in-services, and seminars. Each presentation is tailored to your organization's unique needs.
To inquire about booking Lisa for your next event, please contact us here.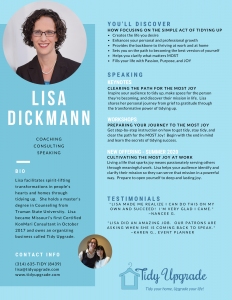 Lisa Dickmann – Speaker One-Sheet
---